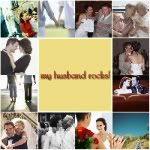 For this week's installment of My Husband Rocks Fridays I am supposed to share about our first Valentine's Day together, what 'secrets' we do well, or what we are going to be doing for Valentine's Day this year.
Our first Valentine's Day together was a little nerve racking for me. We had just had our first date on New Year's Years Eve and he had not yet declared how absolutely, madly, crazy, totally, head-over-heels in love with me he was. I think that came about a week later! LOL!
Anyhoo
...MW was my first true boyfriend, so I was really 'green' and insecure about the whole W
hat is appropriate at this point?
and W
hat do I get him?
thing. So, I did what any mature and highly sophisticated woman in my position would do. I had a girl we worked with start snooping out what
he
was going to do for
me
! I didn't want to know
what
he was getting me, just an idea of how much he was spending on me so I would have a better idea of what to do for him. Bad idea. She was absolutely clueless about what anything costs. I hope she never aspired to be on The Price Is Right, 'cause she would have TOTALLY bombed! She told me he was probably spending about ten bucks on me. He ended up getting me roses and this adorable teddy bear. TEN BUCKS?! We worked at a super store, for heaven's sake! How did she ever come up with that figure? Since I had no idea what was appropriate to get a man for VD
(That abbreviation doesn't quite look right, does it? Oh, well.)
I ended up getting him a pair of leather gloves to go with his leather dress coat and bag of chocolates in the shape of big, juicy, hot lips! We also exchanged cards. I still remember so vividly what his said to me: "It's your heart I'm after..."
Now, you didn't REALLY think I was going to give it all away, did you? That's personal!
I did save the card, though. And the teddy bear, too. Actually, I still have filed away
every
card MW ever given me. I guess you could say I'm the sentimental type.
I'm going to skip the part where I mention what we do well. I think I've covered that plenty in the past couple of posts.
As far as what we're going to do this year for VD (that still makes me giggle!) - well, we're ditching Little Britches for a few hours of Mommy/Daddy time. It will be in the day time, so no romantic evening planned. I don't really care
what
we do, as long as we do it together. Of course, we'll grab a bite to eat somewhere. We have also talked about going to check out hot tubs. The one that came with the house when we bought it last year is yet to be up and running. So, we're either going to fix it or replace it. Maybe we can wear our swimsuits underneath our clothes and sneak in one and feed each other chocolate covered strawberries while the employees aren't looking. That could be exciting! Whatever we end up doing will be great because MW has this knack for making everything fun!
If you'd like to participate or just read about what other couples are doing tomorrow - click on the meme at the top of this post. That will take you to Katy Lin's site where you can read posts from other MHR Fridays participants at the left side of the screen.